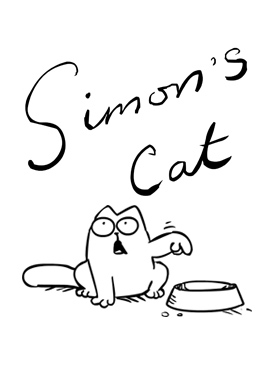 "Carpe diem, my friends, and sod the fruit bowl."
There's a hilarious article about the phenomenon that is Simon's Cat in The Guardian at the moment, taking a distinctly tongue in cheek (or paw in cheek) look at philosophy through the eyes of a cat. A cartoon cat, to be precise, since this is what Simon's Cat is. The first cartoons hit YouTube a few years back and promptly went viral, not just because they're brilliant studies of the struggle between feline and human, but also because they're extremely funny.
You can see for yourself if you visit the article because it comes complete with its own exclusive video, Pawtrait, involving an ultra-cute kitten and an attack of the green-eyed monster.
I still think one of the earliest, Let Me In, is the funniest of the lot, though, with its tale (tail?) of a cat permanently on the wrong side of a door. I really did 'laugh out loud'.